(THIS IS W.I.P, BEWARE! SHE DOESN'T HAVE A PORTRAIT YET, BUT IT IS BEING MADE! THIS IS ALSO MADE BY DANDERE SLYTHERIN!)
Appearance
Ayona has straight brown hair with a light blue streak in it, and green eyes, she wears the default uniform unless customized, and has a bust size of 1.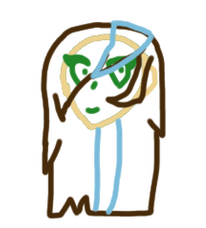 Personality
Ayona is shy, but loves drawing and animating, her persona is Coward.
Backstory
When she was a toddler, art and animations would interest her, she'd practice drawing, and as she got older, she'd animate, when she joined middle school she befriended a person who loved animating, and they'd animate together, but they ended up going to different high schools. She formed the Animation club when she joined Akademi High School.
In-Game
Task
Her task is to find her missing sketchbook.
"Hey... I don't mean to bother you... But uhh... I lost my sketchbook... It has some really important drawings in there... It's black with 2 blue lines on the front... Can you help me find it..?" -Clicking on 'Task'
"Oh! Thank you... I hope it doesn't interrupt your classes though..." -Accepting her task
"Alright... I should find it soon, anyways..." -Declining her task
"You don't have it...? Thats okay... Just please, find it soon..." -Coming to her without sketchbook
"You... Found it? Thank you... I'm in your debt..." -Coming to her with sketchbook
Routine
None yet... She's too busy animating to get herself a routine rn
Relationships
Unknown Middle School Animator - Friend
(Feel free to request a relationship between my oc and yours!)
Ad blocker interference detected!
Wikia is a free-to-use site that makes money from advertising. We have a modified experience for viewers using ad blockers

Wikia is not accessible if you've made further modifications. Remove the custom ad blocker rule(s) and the page will load as expected.