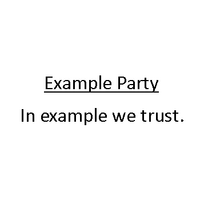 News
Junetember 35, 3065 - Example Party is now endorsing FakeExampleMember78 for Helper.
Ideals/Beliefs
Be an example for the pages of other parties.
Members
If you are a member of the Example Party, please list yourself here.
Members
FakeExampleMember34 (Founder) (Party Leader)
FakeExampleMember78
ReallyCoolFakeExampleMember100
No-one is allowed to join this party, it is merely an example.
Subpages
Ad blocker interference detected!
Wikia is a free-to-use site that makes money from advertising. We have a modified experience for viewers using ad blockers

Wikia is not accessible if you've made further modifications. Remove the custom ad blocker rule(s) and the page will load as expected.